PUBS & VENUES ONLY — Our weekly subscription games are for pubs and venues only...
It's Your Round - Trial Pack
Quizzes are posted to arrive in time for your nominated quiz night.
Call with any questions on: 01246 813713
This is a weekly suscription game - only available to Pubs & Venues.
Britain's best selling quiz It's Your Round is now available for the first time to purchase online (Please note these will be posted out to your venue only it is not available to download)

Buy this 4 week quiz pack and have them posted direct to your pub (One per week) 
This offer includes either 4 freshly-crafted It's Your Round quizzes for a trial. To acquire a regular weekly subscription, refer to the information provided. Quizzes can only be shipped to establishments such as pubs and clubs. 
 Its Your Round Weekly Subscription.
Currently played on a weekly basis by over 1,300 pubs nationally. This quiz comprises six unique rounds to give unrivaled variety.
New questions are compiled for each day of the week so no other venue will be asking the same questions on a different day.
The quiz will last for approx 90 minutes with breaks.
The Rounds:
Pictures
A full colour picture sheet is handed to teams to play. Recognise the famous faces from the world of TV, films, sport, fashion, business and politics. Copyright clearance has been obtained on ALL images used by Redtooth in their quizzes.
Read all about it
Ten interesting questions on news and gossip from the last seven days.
Top five
Two questions with five-part answers, such as: Which five words representing letters in the phonetic alphabet are also boys' names?
Alpha links
If answer 1 begins with the letter 'D' then answer 2 will begin with the letter 'E', answer 3 with the letter 'F' and so on. After 'Z' the next one begins with 'A'.
Connections
Four questions on general knowledge with a theme – spot the theme that connects them to score a fifth point. (An explanation of the connection is also provided.)
Wipe out
Ten questions on general knowledge… answer as many as you like, but beware - get one wrong and you score nothing! All ten right, and get a bonus of five points. 
The weekly pack contains:
15 full colour picture sheets

15 answer/score sheets

A question and answer set
£8.85 + VAT per week.
Please choose the night you want to play when ordering so we can send you the correct quiz! 
View full details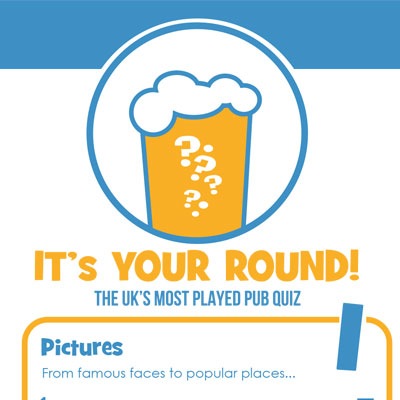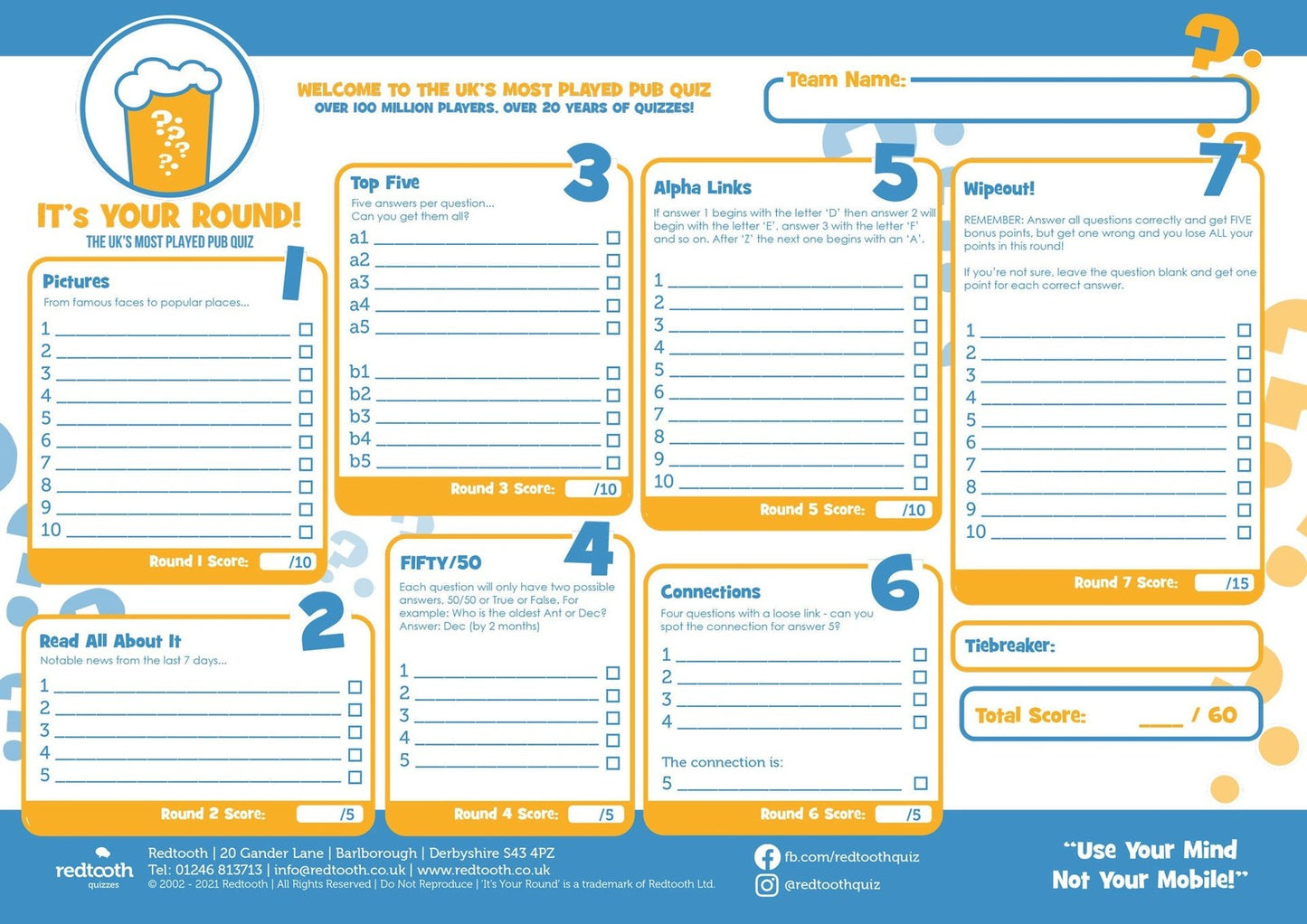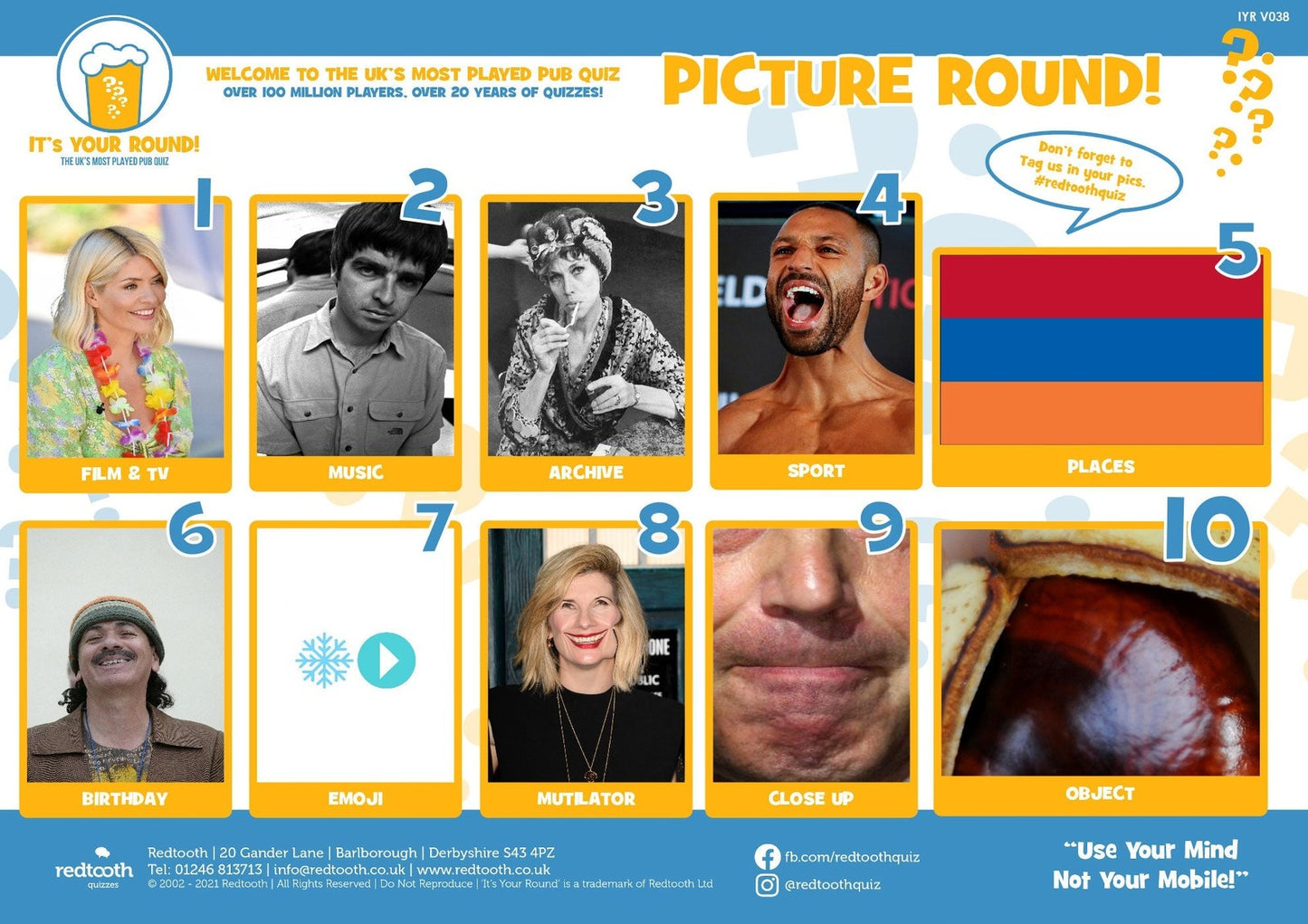 It's Your Round - Trial Pack
TRIAL PACKS AVAILABLE
TRY THESE OUT!