PUBS & VENUES ONLY — Our weekly subscription games are for pubs and venues only...
Lucky 13 - Trial Pack
Quizzes are posted to arrive in time for your nominated quiz night.
Call with any questions on: 01246 813713
This is a weekly suscription game - only available to Pubs & Venues.
Redtooth's Lucky 13 is now available to purchase online.

Buy this 4 week quiz pack and have them posted direct to your pub.
For a permanent weekly subscription see details below. Quizzes can only be posted to a pub or club address. 
Lucky 13 Weekly Subscription.
Three games for the price of one. This is one of the best ways of keeping your customers engaged during the night. The game sheet includes two sessions of Lucky 13 and a Redtooth special 'Red or Black'
Each game sheet consists of two games of Lucky 13 - to play the quiz master turns cards (high/low cards sold separately) players tick the matching cards and 1st player to mark off all 13 is the winner. A jackpot element is also included to allow a weekly rollover.
Red or Black players have to predict in advance the colour of the next seven cards to be turned by the quiz master. Make a wrong prediction and you are out of the game. Last player in wins! In the event of a tie break there is space on the game sheet to record the value of the final playing card turned. Nearest to the card is declared the winner.
The quiz pack consists of 40 random game sheets. Subscribe to 12 weeks of quiz and receive the High/Low playing cards at half price £9.95 & VAT
View full details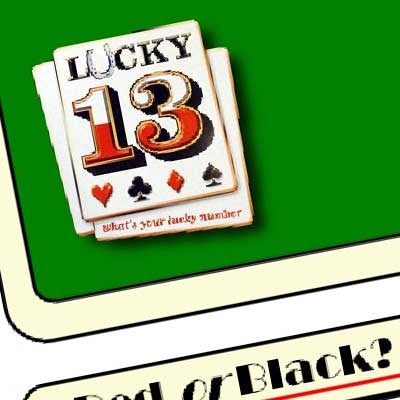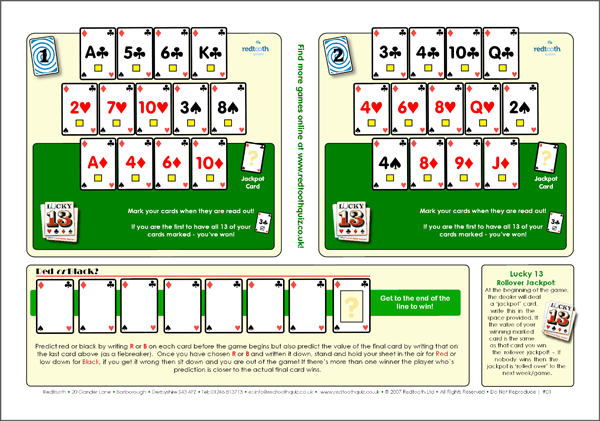 TRIAL PACKS AVAILABLE
TRY THESE OUT!